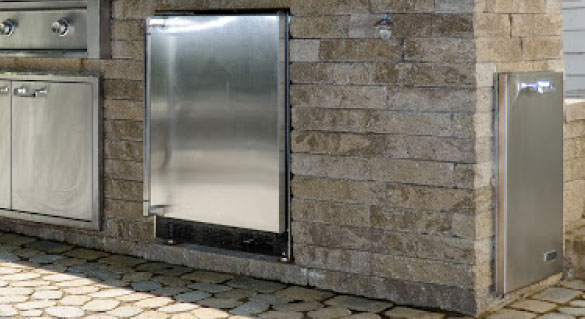 Outdoor Refrigerator Is Constantly Running
Is your refrigerator constantly running or making excessive noise? There can be several issues that lead to this problem and we will start by reviewing the most basic ones. Firstly, check the grille that is located at the bottom side of the front panel of your refrigerator – make sure it is not blocked, there is no dust or leaves covering the grille and preventing the proper air circulation. If you haven't performed the maintenance on your appliance for a while it may make sense to remove the grille and clean the evaporator coils from dust – this will significantly increase the efficiency and reduce the energy consumption. Most of the time the increased working time of your refrigerator's compressor is associated with low efficiency. Another common reason could be that the inner chamber of your refrigerator has a leak. Carefully examine the door gasket, make sure it is not cracked and that the door fits the gasket snugly, the door is not bent and the gasket itself is not damaged. Keep in mind that the refrigerator will have to perform a larger amount of work if you open it often. In this case, it is often recommended to keep it cool – this way other food items or beverages inside the refrigerator will help it to keep the cold temperature and reduce the running time of your refrigerator.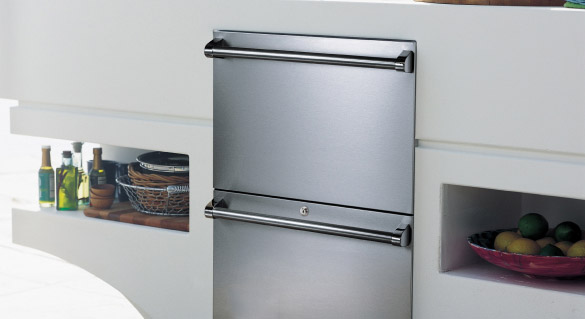 What to Do if Your Outdoor Refrigerator Is Not Working?
Is your wine cellar temperature too low or too high? Make sure the temperature settings of your wine cellar are set correctly. Keep in mind that it may take up to 2 days to reach the target temperature for your wine cellar if it was turned off. Examine the gasket and make sure there are no cracks. The gasket should be airtight, otherwise, the cool air will escape the wine cellar, making it harder to refrigerate and dropping the energy efficiency of your appliance significantly. In addition, it is important to clean the condenser coil of your appliance. It is recommended to clean the coil regularly once or twice a year. A large amount of dust over the coil will result in a significant decrease of performance, increase the energy consumption and decrease the efficiency of your wine cellar. This will make it hard to refrigerate the wine compartment, especially if you use it a lot and frequently open the door.
Additionally, it may make sense to examining the door switch. In case the lights inside your wine cellar remain on once you close the door you most likely have a problem with the door switch. This means that your appliance does not realize the door has been closed and refuses to start cooling.