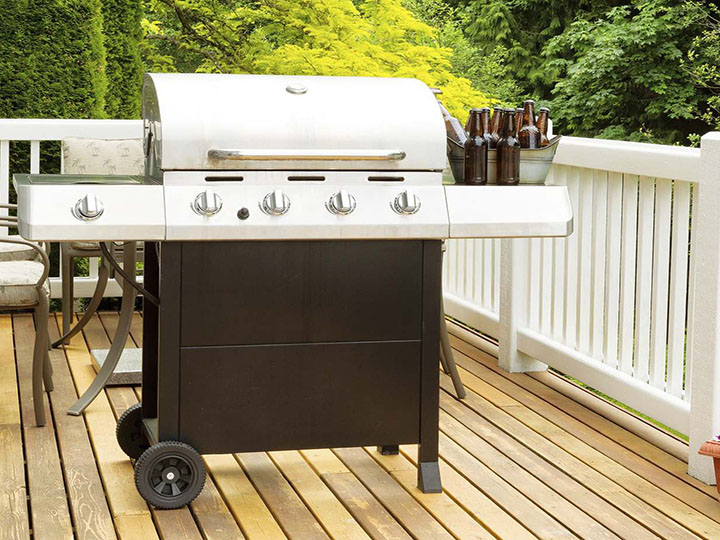 Everybody loves cooking outdoors, and Viking has made it easier and more efficient than ever with their top-of-the-line grills. Discerning customers know they want the best, and Viking grills can provide you with quality, ease-of-use, and years of lasting satisfaction. Grills from Viking provide the latest in innovative features, with the reliability you've come to expect from the Viking brand—all in an attractive package that looks great as a complement to any backyard.
Customers don't often run into problems with their outdoor Viking equipment, but professional help is sometimes needed when problems arise.
Problems With Your Grill?
Viking grills are durable, built to last, and can stand up to just about anything the elements can throw at them. But even with all of these amazing qualities, problems will and can occur. With grills, customers often experience difficulty with controls, temperature control issues, burners or elements not working properly, accessory failure, and fuel supply issues.
The most frequent complaint customers have about outdoor grills, however, is temperature fluctuations. It can be frustrating to try to grill that perfect steak if you can't control your temperatures. Follow these steps to rule out various issues before involving the pros:
Check that your controls are working, and calibrated correctly. If your knobs, dials, or switches seem worn out, loose, or otherwise not at top performance, it can cause problems in the temperatures you're calling for in the grill
Check the grill to make sure it's still sealing properly, and that the cabinet and cabinet lid aren't showing any gaps. Inspect the grill body for holes, wear, or rust that might be letting heat out.
Inspect and clean your burners. If one or more burner or element isn't working (or is working improperly), it can cause temperature fluctuations in the grill cabinet. You can clean grill burners with a bristle brush, warm soapy rag, or similar tool.
Still having trouble? If you're experiencing this problem or any other issue with your Viking grill, just contact us for advice and service. We have the professional experience to take care of any appliance issue in your home.
Our Promise to You
When you work with Viking Appliance Pros, we promise that your experience will be simple and satisfying from start to finish. We've got years of experience helping customers like you with their Viking grills.
When you pick up the phone:
A friendly customer service representative will take your information and get you started on the right track
If you do need a service team dispatched to your location, one will arrive on time and ready to get the job done
Our highly-trained teams come equipped with all the tools and parts necessary to get the job done right the first time. They've got the know-how and experience to diagnose and fix any Viking appliance problem.
Our team will diagnose your problem and provide an upfront quote on all work to be done, allowing you to be in control of your decision-making process.
The job will get done right the first time, and we can usually finish most work in one trip. When we're finished working, your appliance will be back at top performance, and your home will be better than ever before.
We'll make sure you're satisfied with the entire process. If you're not, we'll work to make it right. That's our guarantee to you.
Emergency Service
It's never a good time to have an appliance break down, and when your grill goes out it probably means that you've got a party, special event, or big occasion put on hold. Don't let a grill problem stop your backyard fun. At Viking Appliance Pros, we specialize in servicing our customers 365-days a year, 7 days a week, 24-hours a day. There is no time—including holidays and weekends—that we can't be there for you in an appliance emergency. Just pick up the phone, and we can be there to solve your appliance problems.