Everything You Need To Know About Viking Water Filter Replacement
Water! The drink of life! 
While it's said that humans are capable of living without food for up to three weeks, we're only able to live about 3 to 4 days without water. 
But even when we have water available directly from the faucets in our homes, there's much to be said about how clean and pure that water really is. 
In fact, there are sometimes dangerous chemicals and molecules present in your drinking water in many areas, albeit in minute amounts, which makes them all-the-more dangerous.  
Fortunately, one simple solution for cleaner water is to use a water filter, either at your faucet or at the appliances that disburse your water, such as your Viking refrigerator, which can provide you with frigid cold water and ice at the touch of a button! 
In the following article, we'll take a look at everything there is to know about replacing your Viking water filters. 
Let's get down to it! 
Why is it important to replace your Viking refrigerator water filter?
Because the water pumped into our homes comes from either below ground sources, local lakes or tributaries, it can be hard to know what's really in that water.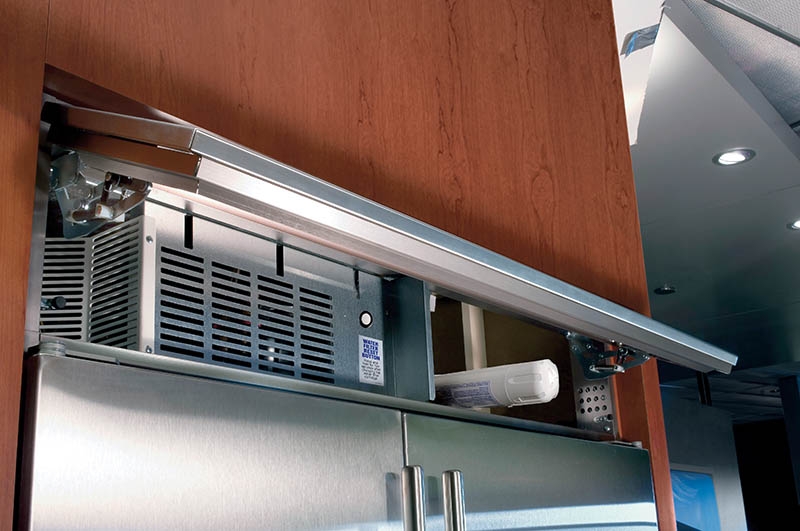 Of course, municipalities and townships do their best to monitor the levels of minerals and other particles present in your water before pumping it to local residences and businesses. 
However, there are simply so many factors that can affect local water sources that it's nearly impossible to keep the water clean at all times. 
With that in mind, water treatment plants use chemicals, such as chlorine and fluoride in their water supplies to help clean and purify drinking water. 
Still, there's much controversy over how effective water treatment facilities really are or how safe it is to be drinking water that's chock full of chemicals, even if they are meant to help clean the water. 
That's why it's important to ensure that your faucets and appliances have water filtration systems, which will ensure that the water you drink from your tap is as clean, crisp, and pure as can be!
Types Of Viking Water Filters
Although you don't generally need to worry about your local water's safety, especially since it's monitored and regulated by your local municipality, the fact is that a water filter will help reduce unwanted taste and odour in your drinking water as well as sediment. 
Additionally, a filter will prevent you from drinking other particulate contaminants, such as chlorine, lead, lindane, and atrazine. 
While there are several different types of filters for your Viking appliance, replacement filters are typically NSF compliant. They are sold ready-to-install, which means you'll need to remove your existing filter and replace it with the new one. 
Then, you'll be ready to drink pure, crystalline water! 
Upon purchasing your Viking refrigerator, your new unit will usually include a factory-bought filter, which will need to be replaced after about 6 to 9 months of use. 
In some cases, your supplier might provide you with the option to buy additional replacement filters when purchasing your appliance. 
If not, you can buy replacement filters from any number of Viking dealers, or you can contact us directly. 
Typically, you'll see two different types of Viking water filters: 
The first will be located inside your fridge, usually directly beneath the meat-saver drawer. In this case, you'll have a built-in refrigerator, which will require a similar built-in-ready Viking water filter. 
Alternatively, free-standing or french door style Viking refrigerators will have their water filters located near the unit's lower left side, near the fresh food compartments. 
How often should you replace the filter for your Viking fridge?
Unfortunately, there is no exact answer on how often you'll need to replace your filters. In fact, it really depends on the amount of use or volume of water that passes through it. 
That said, we recommend changing your water filter every 9 months, or at least once per year to ensure that it will still properly filter your drinking water. 
Some filters might have an indicator to let you know when it's time to replace it. However, the goal is usually to have your filter replace after about 750 gallons of water have been filtered. 
Not sure if it's time to replace your filter? Get in touch with us today, and ask an expert!